NewsBytes
reports:
Ashish Pandey, the son of former BSP MP Rakesh Pandey, who was seen brandishing a gun outside Hyatt Regency in Delhi on Sunday, surrendered at
Delhi
's Patiala House on Thursday. In the letter to the court, Ashish's counsel said he was ready to surrender was subject to an unfair media trial.
Younews is India's best trending news aggregator. We help you discover trending content and the most popular stories from all sites across India. For your privacy and security, Younews recommends the use of
Firefox
web browser with
uBlock origin
addon, and
DuckDuckGo
as default search engine.
This story is trending. Share it.
Younews Reader
n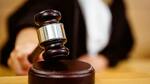 NBW
n
Court issues non-bailable warrant against Ashish
n
On Wednesday, a Delhi court issued a non-bailable warrant against Ashish. The court acted on FIR, which the Delhi police registered on the complaint of the hotel staff.
n
According to police, Ashish was trying to evade the process of law.
n
"A police team was dispatched at the address of the alleged and it has been informed that the team conducted a raid at the said address but the accused was not found," the police claimed.
n
What happened
n
Backstory: Ashish lost his cool and pulled out his gun
n
Reportedly, Ashish lost his cool after a woman objected to him walking into the women's washroom.
n
Following the verbal altercation, he went to his car, pulled out a gun, and started threatening the woman in front of other guests and security.
n
Eventually, he was subdued and dragged away by hotel staff, at which point the video ended.
n
BSP reacts on the video, says Ashish not a party-member
n
"Whosoever he is, a proper investigation should be done and action should be taken. The incident doesn't have any connection with BSP. He is neither a leader nor a member of BSP," said senior BSP leader Sudhindra Bhadoria, in an attempt to wash the party's name.
n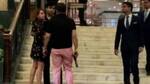 Family's side
n
Meanwhile, Ashish's brother says family willing to help cops
n
Just as the video of Ashish's behavior went viral, his brother Ritesh said the family wasn't defending him and was willing to cooperate with the cops.
n
Ritesh said his brother didn't have any criminal record and they wanted facts to be presented before all.
n
"Even we want to know the truth. That is why we will cooperate with the probe," he said and slammed the media for 'sensationalizing' the case.
n
Loading...