NewsBytes
reports:
Ahead of the World Cup,
Indian cricket team
has sent the
BCCI
a list of their requests, while on tour. Earlier, the CoA had granted the wives and girlfriends of players to join them on tour after a period of 10 days. Now, the team has some more requests, and one of them is quite bizarre.
Younews is India's best trending news aggregator. We help you discover trending content and the most popular stories from all sites across India. For your privacy and security, Younews recommends the use of
Firefox
web browser with
uBlock origin
addon, and
DuckDuckGo
as default search engine.
This story is trending. Share it.
Younews Reader
n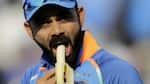 Requests
n
What are the requests put forward by Kohli and Co.?
n
The members of the Indian cricket team have asked the BCCI to allow wives and girlfriends for the entirety of the 2019 World Cup.
n
They have also requested that they should be allowed to travel by train between cities, so that their partners can accompany them.
n
Amusingly, the players also want a steady supply of bananas, apparently their favorite fruit, during the World Cup.
n
ECB had failed to provide Team India their favorite fruit
n
During the England tour, the team was apparently not provided with bananas by the England and Wales Cricket Board. A spokesperson of CoA said, it shouldn't have been a problem as they could have asked the team manager to buy bananas at the BCCI's expense.
n
Requests
n
Other requests made by the Indian team
n
The Indian team also wants the BCCI to book hotels where gyms are available, and to reserve a train coach for their travel.
n
Kohli and Co. had also reasoned that journey by train was comfortable than bus.
n
However, raising security concerns, the BCCI has stated that neither the board nor the CoA could be held responsible if anything unwarranted happens.
n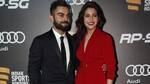 Agreement
n
BCCI wants all players' agreement before allowing wives on tours
n
Skipper Virat Kohli had asked the CoA to allow the wives and girlfriends of players to accompany them throughout the length of the tour.
n
But the board has said that it wants a written agreement from all the members of the team before it can proceed to green-light this request.
n
The BCCI is concerned that some players might feel distracted due to this.
n
Loading...