NewsBytes
reports:
US President
Donald Trump
is unlikely to accept India's invitation to be the chief guest at the
Republic Day
celebrations, sources said yesterday. The US said that Trump may not be able to honor the invitation as he will have pressing engagements around the time India celebrates its Republic Day.
Younews is India's best trending news aggregator. We help you discover trending content and the most popular stories from all sites across India. For your privacy and security, Younews recommends the use of
Firefox
web browser with
uBlock origin
addon, and
DuckDuckGo
as default search engine.
This story is trending. Share it.
Younews Reader
n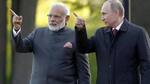 Aftermath
n
Indo-US ties strained after India signed military deal with Russia
n
Trump's possible rejection comes at a time when Indo-US ties have witnessed some strain after India sealed a deal with Russia to procure a batch of S-400 air defense missile systems, notwithstanding US threat of punitive action under CAATSA (Countering America's Adversaries Through Sanctions Act).
n
Under CAATSA, the US can punish entities engaged in a transaction with the defense or intelligence establishment of Russia.
n
Preparations
n
Various other options for chief guest being explored
n
India and the US were in touch with each other over India's invite to Trump to visit the country.
n
However after Trump's rejection, India has now shortlisted names of two-three heads of States for extending an invitation to be chief guest, sources added, indicating India wasn't exclusively looking at Trump's presence at the Republic Day celebrations and that various other options were being explored.
n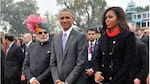 Earlier guests
n
India invites world leaders for Republic Day celebrations every year
n
Every year, India invites world leaders to attend its Republic Day celebrations.
n
In 2015, the then US President Barack Obama had attended it as the chief guest, which was also his second visit to India as the President.
n
This year, leaders from 10 ASEAN countries had attended the celebrations.
n
In 2016, the then French President Francois Hollande was the chief guest of the parade.
n
Nicolas Sarkozy, Putin, Abe were chief guests too
n
The other heads of State and Government who have previously attended the Republic Day celebrations include Nicolas Sarkozy, Vladimir Putin, Nelson Mandela, John Major, Mohammed Khatami, and Jacques Chirac. Japan's Prime Minister Shinzo Abe was the chief guest at the Republic Day celebrations in 2014.
n
Loading...